CryptoGames: Bitcoin and Altcoin Casino
2 January, 2023 | Press-releases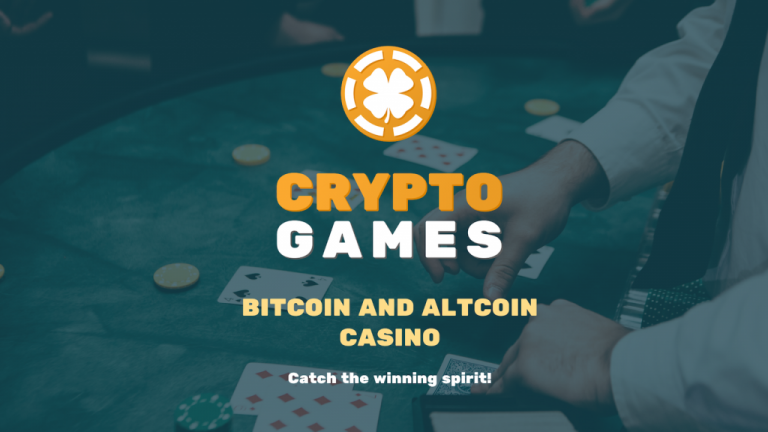 Ever wondered what it is like to experience the extravagant casino vibes in the comfort of your own home? Or if you could try your luck and win bigger prizes? If yes, then this review is for you. If not, then give this review article and decide for yourself if you have changed your mind. In the year 2020, after being hit by a deadly pandemic, mediums of entertainment have aimed for the modern revolution more than ever. Casinos are no different in this matter. And we must say the analog to digital transformation has favored the casino business a lot. On top of that, cryptocurrencies have also left a significant impact on the industry. 
For that, it's only fair to say, the Internet is now filled with emerging online casinos from all over the world.
So, now the question is: How do you find the best one out of a list of hundreds?
This is where we come in and help you choose one that fulfills all the requirements and meets your expectations without any shortfall! Behold yourself and be acquainted with the sensational trendsetter of the online casino world. 
CryptoGames!
The Curacao-Based online casino is operating under its owner MuchGaming B.V.
With a very skilled team of hosts and administrators who are up to solve any problems that may arise, CryptoGames has become the first choice for gamblers worldwide!
Its excellent service, supreme device-friendly user interface, a lavish library of games have made the casino a paradise for all players on the Internet. We have spent days reviewing the validity of all these traits. And we aim to share our findings with you through this article!
Their Lavish Library of Evocative Games:
Well, it can never replace the thrilling vibes you get while playing at an actual physical casino. So, whenever someone says you can find the same experience at an online casino, it is normal to be skeptical. Keeping those concerns in mind, CryptoGames has made sure to create an assortment of 10 old-school casino games. Each of the games has been altered according to the modern preferences of gamblers around the world. They come with their house edges, which are lower than any other online casino's offered amount. CryptoGames has also made sure that they are offering fair policies for all its users along with the lowest house edges. This means your betting results will remain impartial and transparent throughout the whole period. 
 Dice and Dice v2.0:
The first game you will discover on the website is called Dice. You may think it is your regular game of rolling a cube that's been digitalized. But it is not. The version of Dice in CryptoGames is not your typical one that requires luck, a cube with numbered sides, or a probability sheet. Instead, CryptoGames has designed it to be a crypto-oriented Dice game where you have a more extensive range and favorable chances of potential outcomes (0.000-99.999). To win, all you need to do is predict whether the resulting number of the Dice from a roll will be higher or lower than a certain number. A number is then rolled after your prediction. Numbers can go from 0.000 to 99.999. If the resulting number lies within the range you picked, you walk away winning the bet. And receive the exact payout shown to you. But if the number does not lie within your predicted range, you automatically lose the amount wagered.
Dice comes with a reasonable 1.0% house edge, and its biggest prize is set at 3 BTC! Dice v2.0 is the updated version of with a different user interface.
Slot:
Which game can perfectly complete any casino? If you've guessed the classic Slot Machine or even thought about it as you read the question, then you are absolutely correct! CryptoGames' version of the ever-loved slot machine (AKA the one-arm bandit or fruit machine) allows you to play your luck with ease if you are a total beginner. To win, after each roll, your winning lines must consist of either a minimum of one 7 or have at least four symbols of the same category. Details of the payouts in each case can be found in the Rewards section. 
The game of Slot comes with a house edge of 1.97%, and its most considerable prize amount is 3 BTC!
Blackjack: 
If you are looking for a game that gives you the feeling of trading in a real casino, then CryptoGames' version of Blackjack is the perfect one for you! Keeping the traditional essence of Black Jack, this version is for all levels of players. However, with time, you will know your hands better. And as they say, practice does make perfect! Being a comparing card game, you will not be competing against any other players. Instead, you will play against the dealer. You will be declared a victor only if you end the game with a final card count more than the last count of the dealer. The rules ask you to remember that in no way should your end count exceed 21. So read your odds well before you hit, stand, double, split or fold a hand. Or just make sure the dealer's final hand count exceeds 21.
Blackjack comes with a house edge of 1.253%.
Lotto: 
This name of the game, as you can guess, is a shorter form of Lottery. Like the traditional lottery concept, here at CryptoGames, you can buy your lottery tickets and take part in the nerve-wracking anticipation. The draw takes place only once a week. What better way to start a week than having your lucky number drawn on Monday? So, buy one or as many tickets as you want from the "Buy ticket" tab. A single ticket would cost you 10 DOGE coins. Since the results of the lottery draws are processed through a third-party app, RandomPicker, you do not need to worry about its authenticity.
And because you will be betting with your luck on the line, Lotto does not come with any house edges. Meaning, whatever you earn, goes straight into your wallet.
Roulette: 
Roulette is a universally popular casino game. The meaning of its name has been derived from the French word "roulette", which translates as "little wheel". The game has relatively uncomplicated rules which are easily understandable by all players. However, it is said that the game offers a shockingly high level of depth for serious gamblers. At CryptoGames, the developers are offering an adaptation called "European roulette". This variant is played on a wheel of 37-number and only one zero. To play the game, players must place bets on numbers they think will come up. This is done as they lay down their betting chips on the betting mat. The chips must be placed on the exact location of your predicted numbers on the wheel. After each spin, you will be compensated according to the payout table.
Plinko:
Another perfect example of a beginner's lucky game. The game includes a pegged pyramid and balls of four different shades (green, red, blue, and yellow). The players must choose one of the shades to play a game. Before starting the game, players must decide on their betting amount and must set the minimum bet at 10 credits. Then the chosen ball dropped from the top of the pyramid. And during its fall, it collides with the pegs on the pyramid board. After each drop, the ball reaches a particular slot corresponding to a payout. And then according to the color and payout slot, the player will receive their compensations. Each of the slots refers to a different payout value.
At this moment, Plinko comes with 4 different house edges for its four shades of balls. Green with 1.63%, Red with 1.84%, Blue with 1.52%, and Yellow with 1.56%.
Minesweeper: 
To bring nostalgia and the popularity of puzzle games under the same roof, CryptoGames has brought you the famous Minesweeper. CryptoGames added the popular mind game Minesweeper as one of their casino games. The game is as simple as it can get. Steer clear of the mines in the field every single time and save your bets from winning! Landing on a mine can cost you everything! So, before setting an amount to bet, you must be prepared with your strategies. With the rise in difficulty, the rewards rise relatively. As a result, you are guaranteed to enjoy a full-on challenge from the beginning.
Video Poker: 
If you thought the game of strategies couldn't get any better, then challenge yourself with the last game on board. Plinko. To win the game, you are needed to have a bulletproof plan at hand. So, if you are a fan of critical thinking and analyzing, Video Poker is your best opponent. Once you decide on and enter the amount you want to bet, you press trade. This begins the game and immediately deals 5 cards to you. You can hold or keep any combinations of cards as per your strategy. Then complete the hand and press Deal. If your combinations of cards fall in the winning set by the end of a deal, you walk away as a victor. Otherwise, you lose the bet.
Video Poker comes with an average of 2.09% house edge, while the three other versions come with the following house edges:
Jacks or Better 2.11%
Ten or Better 2.08%
Bonus poker 2.09%.
Keno:
Keno is a game that is similar to a lottery. Players have the opportunity to select their own lucky numbers from a field of numbers ranging from 1 to 40. At CryptoGames, the Keno game has a modern and streamlined design that can be accessed from any device. When playing the game, players can choose up to 10 numbers. If the numbers that the player selects match the winning numbers, the field will display a golden symbol. If the player's numbers do not match the winning numbers, the field will display an X symbol. The game will pay out a prize to players based on the multiplier associated with the number of correct predictions they made.
Lightning Fast, Secured, and Flexible Options for Transaction: 
Every online casino is judged based on its transaction or exchange speed, availability of currencies, and security system. Missing even one of these traits or lack of updates in any one of these three results in inadequate services. Taking this into account, CryptoGames has proved itself to be fulfilling all the essential yet non-negotiable requirements at all times. The fast financial transactions occurring all around the casino are monitored and protected 24/7 by the dedicated team. CryptoGames has included 10 different up-to-date cryptocurrencies on their website so that players can choose the best one that suits their crypto wallets. They have also targeted all areas that can help speed up the transactions or exchanges without delaying the actual gaming experience. This means they can switch between coins and games whenever they need or want.
 Players of CryptoGames can use the following variety of cryptocurrencies for their exchanges.
Bitcoin
Dogecoin
Ethereum
Litecoin
Dash
Gas
Monero
Bitcoin Cash
Ethereum Classic
Solana
BNB
Aside from this, the test currency called "Play Money" is always available for the players to use whenever they feel like testing out new strategies. As its name suggests, the currency is curated by CryptoGames to help novice gamblers dive into the games' architectures without losing any bit of their funds. 
Security Measures that are implemented for the transactions:
Just as the saying goes, "with great power comes great responsibility", we say, "with powerful advancement of the internet comes malicious hackers". So, to attain domination as the very best in the industry, CryptoGames has upped its game to provide a shatterproof security method for its users. 
As the Internet is already flooded with invasive entities looking out for weak securities to breach, the need for Two-factor authentication is undeniable. The use of this application ensures a layer of protection for the finances. On top of that, the website is SSL secured, which adds an extra layer of security. If by any odd chance, hackers manage to invade the users' accounts, they still will fail to withdraw any funds at all. The mandatory email verification ensures that the casino's support team is notified of the attack as soon as its occurrence. Following that, all the funds will be transferred to a cold wallet from the account(which has been subjected to hacking). This way, the entire fund will remain safe until proper security measures are taken to resolve the problem.
Flexible exchange options for users: 
As aforementioned above, CryptoGames has made sure to provide the best financial service to its customers through adopting various methods. One of them being their "Exchange" feature in the casino. This detail helps the players trade and wager with their preferred cryptocurrencies before or during their matches. The exchange rates are automatically updated to present the correct information every day. Given below are the current exchange rates in the casino. Please remember that this service is only available for registered players.
The sweet lender, Faucet:
When in doubt, gamblers can always count on the test currency "Play Money for testing out any game plan they form. And this is where the in-house feature called "Faucet" comes to make life easier for the players. It is an atm booth for availing the Play Money currency. Users can claim free coins from the Faucet by simply being active on board and requesting it through the Rewards tab. Various activities also allow the players to level up their faucets. Meaning, by completing basic tasks like staying active and contributing to the community can benefit the players to earn more free test currencies for themselves. 
Bag more funds with Jackpots and Referral Programs! 
CryptoGames is a worldwide beloved casino for its generous offers for players of all skill levels. These attractive offers reward the feverish gamblers with fabulous prizes and enable healthy competition among themselves. Currently, the games Dice and Roulette are part of the biggest offers available. These two games are giving out chances to win a massive jackpot from one bet!
For Dice, the rules for winning a Jackpot are as follows:
Dice result is either 7.777 or 77.777
Dice bet is a winning roll
The bet amount and profit both meets the requirements
The last two digits of a player's Server seed + client seed combined and encrypted in SHA512 are 77 (called the jackpot number)
Players will take home 100% of the Jackpot if their win amount is above 0.004 BTC, or altcoin equivalent.
If win amounts are lower than what's mentioned, they will receive a proportional share of the Jackpot where the minimum is set to 1%. 
In Roulette, a Jackpot is hit when –
Players roll 7 four times in a row with the same cryptocurrency (only 4 consecutive bets count)
All the bets are profitable (return to player is more than bet amount)
Player's bet amount and profit meets the requirements
As for Roulette, players will receive 100% of the Jackpot if the win amount on all four bets is above 0.004 BTC, 2 DASH, 40000 DOGE, 1.2 ETH, 4 XMR, 0.4 BCH, 4 LTC, 60 GAS, 12 ETC, or 24,250,000 PlayMoney. If the winning amount is lower, then they will receive a proportional share of the Jackpot with the minimum set to 1%. If winning amounts are different on four bets, players will receive a Jackpot that equals the win amount on the lowest bet. 
Accompanying Jackpots, CryptoGames is also offering an enriching opportunity for its players. This opportunity to earn is obtained through Referral Programs!
Every player at the casino is provided with an introductory link to promote CryptoGames. This link can be found in the Rewards tab situated under the Invite a Friend tab.
All players who have passed the referral links will be rewarded with 15% of the house edge for each recommendation. And their rewards will not be affected by the players' (whom they have invited to play) win or loss are not affected by the profits or failures of the recommended player! Promotional banners for the casino can be found in its dedicated link under the FAQ page.
All things considered, our final verdict for CryptoGames: 
After being encountered with engaging, safe, and exceptional entertainment for ourselves, we are in complete confidence recommending CryptoGames to you. Throughout our inspection, we have only been surprised at how dedicated professionals have built the website. Keeping all your hopes and expectations of an adequate online casino in mind, they have worked day and night to present better than the best for you. And it is very much evident, especially in their intricately designed UI, user's well-being policies. Even after being on the market for so many years now, CryptoGames continues to make sure that all its users are treated like family. They are and will always remain an integral part of the casino. So, with this specialty in mind, we are winding up our review on a good note. We hope this review helps you to choose the best of the best and enjoy an outstanding gambling experience for a lifetime!
Links of interest
CryptoGames: https://crypto.games/
Facebook: https://www.facebook.com/CryptoGames/
Blog: https://blog.crypto.games/
Twitter: https://twitter.com/Crypto_Games
BitcoinTalk ANN: https://bitcointalk.org/index.php?topic=750760
Forum: https://forum.crypto.games/